The IPL is starting today but of a different kind. It is the Women's IPL or simply WPL. Yes, it's time for the inaugural WPL edition. In this blog, we analyze the strongest team from the squads assembled at the auctions. Now, imagine a team with Stokes, Buttler, and Jadeja along with a veteran spinner and a fast bowler. Add to it the world's no1 bowler in T20 and ODIs. That squad looks damn good. The UP Warriorz have been able to assemble the same kind of squad in their 1st auction. They have got the equivalent players from the women's circuit.
Strengths
The Pillars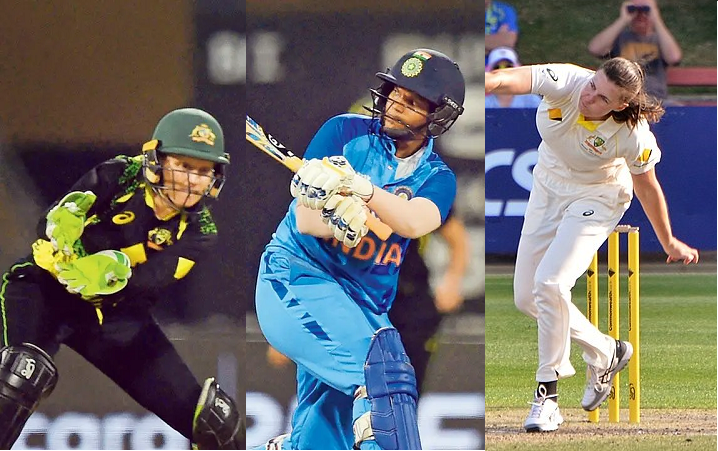 The 4 pillars of any strong T20 side are a spin-bowling allrounder, a fast-bowling allrounder, a gun top-order batter, and finally a top-class spinner. The UP team has their bases covered in the form of Deepti Sharma, Tahlia McGrath, Alyssa Healy, and Sophie Ecclestone.
It is safe to say a team had a good outing in the auctions when you have players of their quality in your group. These names are enough to send chills to the opposition. A top-order batter who is known for big moments and crunch situations.
Tahlia McGrath – arguably the greatest all-rounder at present – is also the current world no 1 batter in the T20 format. Why she is the greatest at present? Have a look at these stats in the table. A batting average of 61.5 and a bowling average of 18.5 is a dream for any player. Trust me when I say we get players like these once in a generation.
| Format | Matches | Runs | Batting Ave. | Bowling Ave. | Wickets |
| --- | --- | --- | --- | --- | --- |
| T20Is | 27 | 615 | 61.5 | 18.5 | 13 |
| Odis | 22 | 357 | 32.5 | 31.1 | 17 |
Moving on to the next pillar, Deepti Sharma is the type of player who gives full security to team management. She has bailed her national side out of troubles time and again, a rare quality that aids in the strength of UP Warriorz. With close to 1000 runs and 102 wickets in T20I, she is a perfect pair to Tahila McGrath.
Not to forget, they have also acquired the services of the world's no1 bowler Sophie Ecclestone. It is a dream for any captain to have a bowler with close to 100 wickets at an average of just over 15. It is safe to say from these stats why she is the best bowler in this format.
| Format | Matches | Wickets | Bowling Ave. |
| --- | --- | --- | --- |
| T20s | 70 | 97 | 15.23 |
Icing on the Cake
The list does not end there. Rajeshwari Gayakwad is an Indian veteran who knows these conditions inside out and can be a potent weapon in spinning conditions. How about an established leader of the attack -an all-time leading wicket-taker for her country in both formats – to go with those four pillars? Your guess is right. It is Shabnim Ismail. The 34-year-old Right arm quick bowler from South Africa. She is already regarded as one of the greats of the game. If UP Warriorz plays to its full potential, the sky is the limit. With all bases covered, they are the favorites to win the inaugural WPL season.
Alyssa Healy, Tahila McGrath, Deepti Sharma, Sophie Ecclestone, Shabnim Ismail… This group of core is enough to send chills to the opposition…
Weaknesses
Lack of Indian Depth
A lack of Indian depth is a primary weakness in the UP Warriorz squad in the inaugural WPL edition. 15 seasons of IPL have presented enough data to prove the value of Indian players in the premier league games. The Indian depth in the squad plays a major role in a title-winning campaign. 5 times IPL champion Mumbai Indians had immense Indian depth in their ranks.
Though UP Warriorz has assembled rising stars from India, it may not necessarily solve the issue. Having said that, an opportunity for new players can always throw, so this may cover the weakness to a certain extent. Umran Malik, Arshdeep Singh, and Shahbaz Ahmad are examples of IPL. Unknown commodities before the IPL, all of them went on to represent Indian heights after playing the IPL. We might not be far away from potential Indian players in the upcoming WPL though, and UP Warriorz would definitely hope for one.
We have learned from Dhoni's CSK that even without the strongest team on paper, you can win titles with the right combination.
Lack of Injury Cover
With such a busy schedule, the injuries to the core players always loom large, and that can be another potential threat to UP Warriorz. Once a legendary commentator said, "A team is considered the strongest, depending on its bench strength". Do they have strong backup options for the main 11? The answer seems to be negative. But having said that, why care for a backup when you have as strong a core as UP Warriorz?
READ MORE
All is not won off the field though. There is always a problem with finding the right combination. It doesn't matter if you are the strongest team on paper, what matters is the ability to find the right combination. We have learned from Dhoni's CSK that even without the strongest team on paper, you can win titles with the right combination.
They still have to turn their potential into match-winning performances to be crowned as the inaugural WPL champions (Queens). We can't wait to witness four greats of the game playing together and treating us to some exceptional never seen before cricket.
LET THE SHOW BEGIN!! 📢
Which team do you think will be the champion of the inaugural WPL season? Is it UP Warriorz or someone else? Do share with us in the comments. You can also write to our Twitter handle at @CricBloggers. We are eager to hear you. Do share cricketbloggers.com with other cricket enthusiasts. You can also write to me directly at my Instagram handle hari_haran_2909.