The Preset – A Passionate Cricketer
My young friend, Siddharth, got married last month. A lawyer by profession, Siddharth is a fine cricketer. I have hardly known anyone as passionate about cricket as him. His passion and love for cricket borders fanaticism so much so that cricket has a strong influence on all other aspects of his life. He doesn't go to parties or social gatherings on the weekends because it's a game-time after all, let alone dating. He played 5 to 6 six matches every weekend. His routine remained unchanged for the last few years.
Sid works in a senior advocate's firm. Young professionals generally slog and work brutal hours without any holidays, in their initial career years. Sid is an exception. Saturdays and Sundays are off by default. There is no way he will work on those days. He takes only Supreme Court cases as they have weekends off. Most Friday nights, his senior threatens to sack him, to which he responds with a counter-threat called "resignation". He still works in the same company by the way.
Tackling Covid Tactically
Even during peak Covid, Sid and his friends found a way to sneak into the DDA Park in the vicinity of his house. It was an intense game with tennis balls, better than nothing. Someone called the cops, and they had run away from the park. For a few days, this was routine until the cops completely sealed the park gate.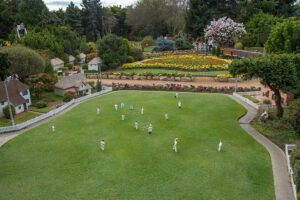 Only Cricket matters…
Sid turned 32 last June. His parents have been pushing him for marriage for almost 3 years. He had successfully negotiated until recently. Not that he isn't interested in marriage, just that he observes his friends juggling the priorities between work and family along with cricket. Work comes first, family second and Cricket takes the bronze. Many teammates dropped out after their marriages. This is unacceptable to him. For him, cricket is his first and only love.
Whenever he met a girl, Sid gauged her interest in cricket.
Like the great wall, he stood his ground. He played all the difficult balls thrown by his family with great aplomb. The yorkers were defended and ducked under the bouncer. He survived in-swinging and out-swinging deliveries with great difficulty. Eventually, he held his ground with an unshakeable conviction to stay single. Until wilting against his parents' consistency of course.
Finally the love of his life… albeit with Cricket
Whenever he met a girl, Sid gauged her interest in cricket. All the girls scored an "E'' grade in this regard until he met Natasha – a practicing lawyer like Sid. They hit it off well, not because of the same profession but due to Natasha's deep cricketing knowledge. Sid could hardly believe his luck!!! He told us about her during a match and invited us to meet her over coffee the same evening. He was Man of the match that day for his all-round performance.
The Lightning!!
The topic of discussion drifted to cricket. Her cricketing knowledge impressed us all. It was like talking to an expert. The discussion then veered toward the topic of work- life-cricket balance. Everyone spoke about the challenges of time management. Yet, everyone was honest to admit that they want to play as much as possible.
Sid will not be able to play. He is going to miss you all so much.
Natasha was listening intently to the discussion. She gave a few nuggets of wisdom on how to keep a better balance between W-L-C. We were all engrossed in the discussion. Then, Natasha threw a toe-crusher. "Too bad, Sid will not be able to play. He is going to miss you all so much". You could hear a pin drop. Absolute silence for a minute. Everyone, including Sid, thought that they did not hear it correctly. Hesitant, he asked Natasha, "And why wouldn't I play?" Natasha gave him an incredulous look. "Honey, you will not have time for these games. Your weekend will be with me". There are so many things that I have planned together.
READ MORE
I swear I saw tears in the corner of Sid's eyes. For the first time, I saw Sid at a loss for words. The man with the gift of the gab swayed judges and the jury with his powerful oratory. The man with the sweet smile that charmed his way out of every difficult situation was Quiet. Numb. Shocked. In complete disarray. Post that day, we did not see him until the day of his marriage.
The Ceremony
After many rituals and all the drama that surrounds a big fat Indian wedding, it was time for the "pheras". Seven rounds around the holy spirit of the Fire God. The bride and the groom pronounce vows of eternal love to each other. Sid was walking in front, Natasha at the back holding his sleeve. We bid goodbye in our hearts to a promising cricketer retiring at the peak of his career.
Our souls will see a holy alliance, only, if you allow me to play cricket every weekend.
The Googly
They both completed six rounds around the fire. At that moment, Sid stopped in his tracks. There was a collective gasp of breath from the crowd. What was he doing? Sid looked at Natasha and said, "Our souls will see a holy alliance, only, if you allow me to play cricket every weekend." All eyes were on Natasha. Her eyes were spitting fire at Sid. Her mother felt dizzy, and she was about to collapse.
Natasha came close to Sid and said, "You can play one match every weekend. That's all I will allow. Take it or leave it". At first, Sid was in a mood to disagree. His mother was looking at his team members with leading eyes. Begging to intervene. I said, "Sid, it is a good start to your innings. Accept". He did accept. The 7th "phera" sealed the status of their alliance.
The priest was getting up after completing the rituals. Sid spoke to him, "Pandit Ji, please remain seated and continue with the Mantras. The 8th "phera" around Lord Agni solemnizes the promise that Natasha has made to me."
All's well that ends well
It has been 3 months since the wedding. Sid comes to play once a week. Whenever Natasha pleads with him to stay home, he reminds her of the "aathwan phera". Sid feels that Natasha sometimes regrets taking that 8th round with him.
Your Feedback matters
What do you think about Cricket Stories? Your comments will help us make them better. Please write your feedback in the comments section or to our Twitter handle at @CricBloggers. We are all ears to your feedback. Do share cricketbloggers.com with other cricket enthusiasts.