As we know, these bio bubbles are not only hard for the cricketing boards to organize but for the players to sustain too. After a lot of back and forth, ECB is expected to announce their Ashes'21 squad tomorrow.
Should English players participate in Ashes'21?
In the recent past, many English and Australian players have taken breaks from the game of cricket. The likes of Ben Stokes and Mitchell Starc have already spoken about bio-bubble fatigue. In fact, Chris Gayle was the latest one when he pulled out of IPL franchise Punjab Kings' bio-bubble to be fresh for T20 WorldCup.
Read More: The Manchester Test: The Match that wasn't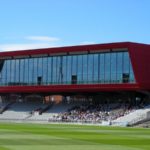 Considering the Ashes'21 schedule, the factor of being away from friends and family – who travel with the players – for 40 days can be tough on the players. Especially after spending the last 18 months in the same scenario.
However, English players and ECB are under pressure to travel for the Ashes'21 after facing criticism – for abandoning the Pakistan tour. If they chose not to travel to Australia, the chances of WestIndies and Pakistan not traveling to England will further increase. After the cancellation of the Manchester test, ECB cannot bear the further financial loss. The financial factor may eventually push the top players to travel along with the fringe players.
Positive Outlook for Ashes
I do not see why players would not like to participate in such an epic series. In fact, even the restrictions have relatively been eased in Australia, so there is no reason for the top players' denial to travel.
As we know, things can change very quickly in life. I would not be surprised if this tour ends up being the morale booster for English cricket. They may finally get that series win in Australia since 2010 and bring the ashes back home. However, only time will tell.
What is your view?
What do you think, shall English players travel to Australia? Please share your views in the comments section, or write us at our Twitter and Instagram handle.