Australia faced a big defeat against England – 8 wickets with 50 balls intact – after starting strong against South Africa and Sri Lanka. Understandably, both the later teams are in transition, compared to the former, which is in its peak years. The fact is that the team selection and tactical nature are always tested against the best team.s Unfortunately, Australian weaknesses in the aforementioned departments opened up against England. Before I write further, let me share a couple of Tweets to put things in perspective:
Mitch Marsh Hard Done by
Has #MitchellMarsh been hard done by?

He was in such great form coming into the #T20WorldCup

Not being utilized at his best suitable place, and now dropped…#Australia #AUSvENG | #T20WorldCup | #CricketBloggershttps://t.co/ben2VGrdIt

— Cricket Bloggers (@CricBloggers) October 30, 2021
Steve Smith in T20I Team
Disappointing selection from Australia leaving Marsh out & Maxwell batting in the power play (he should always come in after power play). Stoinis should have gone in. Poor strategy & tactics from the Aussies. I love Smith but he shouldn't be in the T/20 team. Marsh has to be !!

— Shane Warne (@ShaneWarne) October 30, 2021
Mitchell Marsh out of the XI
Going by the stats of English batsmen against Left-arm spin, Ashton Agar was included in the XI. However, that change came at the cost of Mitchell Marsh. Looking at Marsh's recent stats, this was quite a surprising team selection.
Mitchell Marsh scored 375 runs at 37.5 coming to at 3 in the previous two T20I series against West Indies and Bangladesh. Against WestIndies, he smashed the ball at an SR of 140+. And we aren't even talking about his impact with the ball in hand.
Read More: JL and Paine – Move on Australia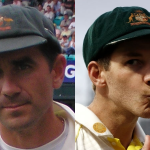 Can you really leave out your in-form player, who can add value in both the departments? This has to be a questionable team selection. Ashton Agar could have easily come in place of Steve Smith, who has lacked the T20 game time – he played 2-3 games for Delhi Capitals in IPL – and plays at a significantly lower SR of 127.34.
Team Selection in Test Series vs India
For a past reference of this nature, the test series against India earlier this year sets a perfect example. In spite of knowing that Mitchell Starc's avg declines as the no of tests increases in a series, Australia chose to continue with him in Sydney and Gabba, instead of bringing in the fresh legs of either James Pattinson or Michael Nesser. Australia could have saved the fortress Gabba against India with the right team selection, who knows.
More about Australia: Incredulous – Australian Opening Pair Turmoil
Surprising Selections
Australia tried many players in the bilateral T20I series against New Zealand, West Indies, and Bangladesh earlier this year. However, went back to their mainstay players for the T20 WorldCup. This was a major surprise, considering that most of the mainstay players didn't have T20 game time – except Maxwell of course.
What Do you think?
Do you share the same view? Or You think that Australia is on the right root? Do share your views in the comments or write us at our Twitter and Instagram handles. You can also write to me directly at my Twitter handle AndyDesai.