Indians love their cricket, don't they? One thing team India is quite sure about is the fan's support – 365 * 24 * 7. Wherever (any location across the world), whenever (any time of the year and any season), and whatever game (Tests, ODI or T20s), they'll find many Indians cheering for them. Have you ever heard the chanting of "India… India"? Or have you seen the "sea of blue"? These are the characteristics of Indian cricket fans.
Unconditional Support
Even in the gloom situation, Indian fans don't take a step back in cheering their team. They've given the full support to team India, even in the 4th game of the test series team has trailed by 3-0. It's the unconditional support to their beloved cricket team.
Bharat Army
England's Barmy Army is quite famous for their support to the English cricket team. On similar lines, Indian fans have come together to create "Bharat Army". In all major tournaments, you'll find these loyal fans in the stadium. It has its own website https://www.bharatarmy.com/ that you can visit to be a part of these passionate supporters' group. Few fans of the Bharat Army supports the team with their writings, if not the stadium visit.
Sudhir Chaudhary – Tendulkar 10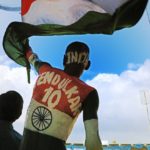 Sudhir Chaudhary (also known as Sudhir Kumar Gautam) is a most loyal individual fan of team India. Since 2003,  he has attended every home match team has played. To attend some of the overseas tours, he collects the funds from the cricket lovers, and ensure his support to team India.
Look around the stadium, you'll find a man draped in a tri-color and Tendulkar 10 written on his body. He is Sudhir  Chaudhary for you.
Ms. Charulata Patel
Here's the latest entry into the famous Indian fans, but never too late – Ms. Charulata Patel. She's 87 years old fan, who supports Team India with the enthusiasm of 17 years old. She's an Inspiring Indian fan, in a true sense.
Team India is truly lucky to have truly inspiring Indian fans across the world, cheering them from the stands, no matter what. Fans have supported them for years, and I'm sure they'll keep cheering for years to come.