The much anticipated mega auction is done and it lived up to expectations. There were thrills, spills, and some surprises. In this series, we will attempt to give a review of how the teams now stand and attempt to pick our eleven for each franchise. Where better to kick off than the Delhi Capitals.
Delhi retained three gun players in Pant, Shaw, Nortje, Axar and picked up a further 21 players through the auction. At first glance, this squad has Ricky Pointing all over it. Aggressive batting, fire in the bowling, shrewd overseas players, and a good blend of experienced seniors and even experienced young players and an eye on the future with two stand-out players from the world cup winning under 19 team.
STAR PICKS – UNRETAINED
Delhi did not pick many senior Indian players from the auction. Their capped Indian contingent was seen to be there only as backup players for the moment at least. There are two players with a mention
Kuldeep Yadav
A player that needs a good season after falling out of favor and form. Undoubtedly he is the second spinner in the squad but without the extra value of runs, he will have to take his chance when it comes. He has made it back into the ODI squad and he will have the desire to play well and keep that spot.
Read More: IPL Mega Auction Strategy for RCB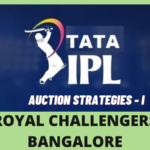 Shardul Thakur
The cult of the Lord has only grown since the heroics of the Gabba. For the Indian Test side, he seems to have the golden arm. His prowess in the shortest format is not as consistent but he is definitely one of the best bowlers to have from overs 6-15, offers good control and economy.  Again lower-order hitting is a crucial factor.
OVERSEAS SELECTION
With the overseas players Delhi has selected, it's clear they have attempted to cover all bases. A left-arm opening bowler in the Fizz, experienced all-rounder in Mitch Marsh, a backup wicket-keeper, a hard-hitting West Indian batsman, and Lungi Ngidi as another quick option.
Let's not forget Warner as the opener which could be the biggest risk they have taken in this auction. Should father time catch up with Warner they could be left short at the top of the innings? All in all, I feel they would be very pleased with the overseas players that have to choose from.
POTENTIAL BREAKOUTS
In any squad of 24 players, there will inevitably be room for new stars to emerge. Players like Dhull and Ostwal have been picked with an eye on the future so their opportunities may be limited this season. However, there are players in the Delhi squad that the audience should get excited about especially looking from the gaze of an Indian fan. My 3 to watch for are:
Sarfaraz Khan
For a long time, his name has been mentioned, and for good reason. An outstanding performer at the youth level and had a spectacular Ranji season pre-pandemic. He played with Pant at the U'19 level and with Ponting as a mentor, it will be interesting to see if they can unlock his huge potential.
Kamlesh Nagarkoti
Again a stand out from youth development. It's time for the next phase of his development. Stay fit, get stronger, and most importantly get faster. If Avesh Khan is the product of Ponting's coaching, Nagarkoti can have an outstanding tournament spearheading with Nortje.
Lalit Yadav
Maybe not a name that jumps out straight away especially with the likes of Sakariya in the squad but his career has been brewing for a while now. A T20 SR of 145 and an economy under 7. Could he be the next Ravi Jadeja? Let's wait and see.
Probable XI
Picking an 11 is quite a challenge from this squad. All the bases can be covered with the options available but by doing so you may weaken the batting. If you go gung-ho in the batting department Delhi could be short of variations in the bowling department.
You may consider Marsh at 3 in place of Sarfaraz. I would play it the other way around as I feel Sarfaraz needs more time to build an innings and gives him confidence in the early stages of the season. I feel Marsh has the experience to face the challenges of batting in the lower order. He can score quickly at the end of the first innings, he can rebuild the innings case of early wickets. In the second innings, he can finish a run chance too. I feel he is better equipped than others to fulfill the requirements of a number 5 batsman.
Having said that my first Delhi Capitals 11 is:
Prithvi Shaw
David Warner
Mitchell Marsh
Rishabh Pant
Sarfaraz Khan
Rovman Powell
Lalit Yadav
Shardul Thakur
Axar Patel
Anrich Nortje
Chetan Sakariya
---
What do you think of the team built by Delhi Capitals?
What is your review of the team built by the Delhi Capitals in 2022? Do share and comment in the comments section. You can also write us on our Twitter and Instagram handles. And reach to me directly at my Twitter handle Nimesh Patel. Please do not forget to share this blog with other cricket fans.
---
Image Credit: Delhi Capitals