On Thursday, BCCI made the much-awaited announcement of their squad for the T20 World Cup to be played in U.A.E just after IPL 2021. In this blog, we try to decode the thought process selectors probably had while picking the team for India's World T20 challenge.

TEAM – Virat Kohli (Capt), Rohit Sharma (VC), KL Rahul, Suryakumar Yadav, Rishabh Pant (wk), Ishan Kishan (wk), Hardik Pandya, Ravindra Jadeja, Rahul Chahar, Ravichandran Ashwin, Axar Patel, Varun Chakravarthy, Jasprit Bumrah, Bhuvneshwar Kumar, Mohd Shami.
The opening Combination
India is blessed with so many openers that they can field three teams simultaneously and still have world-class openers in all of them. Rohit Sharma, Virat Kohli, Shikhar Dhawan, KL Rahul, Prithvi Shaw, Mayank Agarwal were the available options and as expected they picked three of them. Shaw was probably a very tempting option as he is more T20ish than anyone else but it is understood that management went with experience. Rohit is a definite starter and the team will take a call on which one of Kohli or Rahul will accompany him. The third opener will bat down the order.
Read More: TWo-Phase IPL – Let's think Unthinkable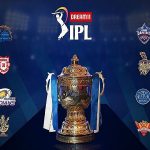 A wise choice will be opening with Kohli and playing Rahul down at number five. Virat makes good use of powerplay but tends to struggle in the middle phase of the game. Rahul on other hand can take up the role of a finisher with his dynamic abilities. There is another more radical way, opening with Rahul and giving no 5 to Virat as he is very good at finishing his job but it is highly unlikely that it'll happen.
Middle-Order Muddle
Suryakumar Yadav – who is a cemented number three -, Rishabh Pant and Ishan Kishan as the two keepers along with two all-rounders in Ravindra Jadeja and Hardik Pandya. There is nothing much to argue here. There are not many to claim these spots anyways. One of these will not make it to starting XI, who will most likely be Ishan Kishan.
Statistically, this is a very strong line-up based on current forms. Since 2020, The cumulative T20I average of all batters is 39.2 while striking at 143.50 – a fairly decent strike rate. That means on average this team finds themselves at 171/5 after 20 overs. Though this might be conservative for modern T20 cricket, they can easily put bigger scores with a bit more intent.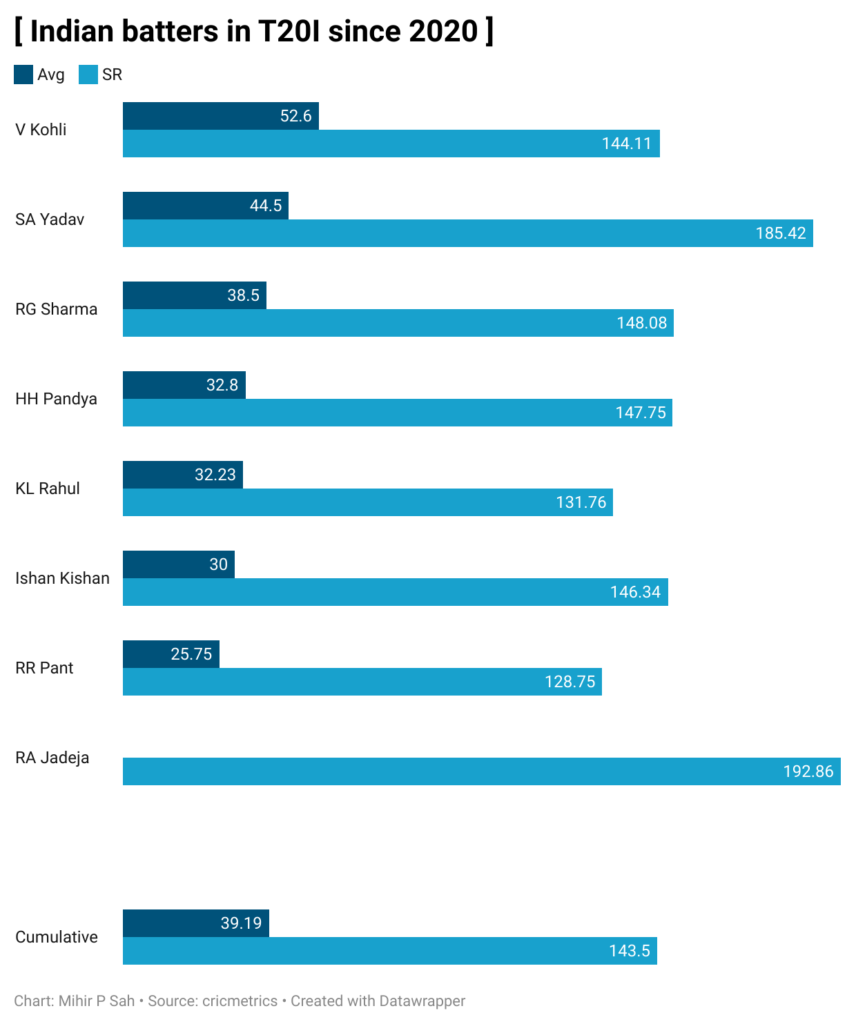 Spin, spin, everywhere, not a slot for Chahal
The spin will be a likely key for India's world t20 title claim since the UAE tracks are expected to be slow post IPL games. However, only time will tell whether this is a correct narrative. There were no signs of 'excessive' help for spinners last year in the second half of the IPL. They were still great T20 tracks and required balance attacks. With just a second phase of IPL in UAE this year, the conditions for WT20 are likely to be similar to the second half of IPL in 2020.
The selection committee has picked a grand number of five spinners anyway. A combination of two leg-spinners, two SLAs, and a lone off-spinner in R Ashwin. The inclusion of Ravichandran Ashwin can be considered as a wild-card entry. It was fueled by the injury of first-choice off-spinner Washington Sundar. Ashwin is a master of variations as an off-spinner. Someone who can turn the ball the other way is a great addition to any team.
The Chahal Debate
The exclusion of Chahal though is a bit of a surprise to many cricket fans and experts. It's not like Rahul Chahar and Chakravarty are underperformers but still. Chahal's record speaks for himself. He won India a T20 series in Australia recently and took 21 wickets in IPL2020; the highest for a spinner. He did a decent job against Sri Lanka in his last International Tour.
The reasoning by the selection committee behind this call is the selection of quicker spinners. This is fine as leggies with quick googlies are doing better than everyone else off-late. However, I don't really believe in discriminating based on technique. These bowlers probably now have the same hype like the wrist-spinners had five years back. Many finger-spinners were suddenly sidelined from T20 cricket in that period.
The pace trio for India's World T20 challenge
Jasprit Bumrah, Mohammad Shami, and Bhuvneshwar Kumar; That's all that India has as their fast-bowling arsenal for the WT20. Bumrah of course is a default pick but the other two are slightly debatable. If we look at it phase-wise, all three are great in the powerplay and the middle-phase of the game but it's not the same in the back-end.
While Bumrah is a specialist death bowler, Kumar and Shami aren't that promising. Shami was never a top-tier death bowler and Bhuvneshwar Kumar's death bowling is declining for quite a few years now. In fact, in IPL2021, he was thrashed in almost all the games he played.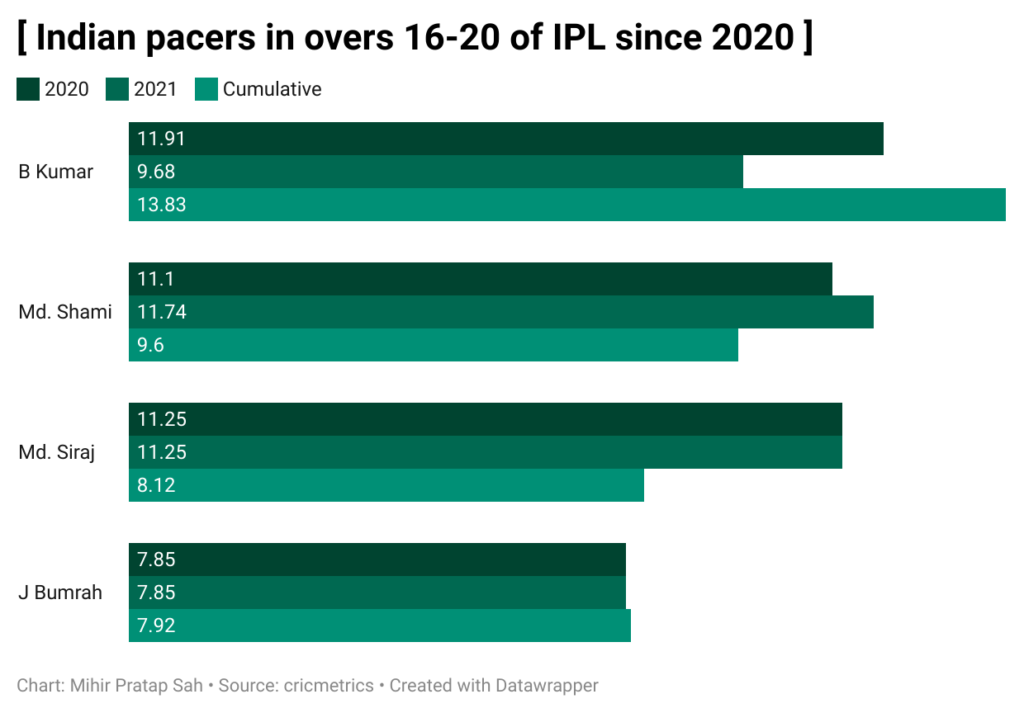 Siraj's Case
Md. Siraj's case becomes very strong for the same reason. He has shown his dynamic skills in the last two IPLs and won matches for RCB with his death bowling skills. He might not be as experienced as the other guys but is probably way more potent now. Selectors might have decided to go with experience while picking squad but Siraj not being named even in stand-by can be a result of him not playing any T20I in the last two years. Considering they even picked Shardul – the most economical bowler in IPL 2021 ph-1 and only played test cricket after that, I genuinely hope that Siraj gets a place later and India take at least four pacers into the tournament.
Probable XI
Virat(C), Rohit, Suryakumar, Rishabh, KL Rahul, Hardik, Jadeja, Ashwin/Shami, B Kumar, R Chahar, Bumrah.
This combination gives deep batting, six bowling options, and an overall balanced outfit. The only concern is death bowling as we discussed earlier.
What are your thoughts?
What are your thoughts about India's 15-men squad at World T20? Do share with us in the comments section, or write us on Twitter or Instagram. You can also write to me directly at Mihir Sah.