Here are few bi-lateral ODI series played a couple of months before the world cup 2019:
Pakistan – Australia, Venue: UAE
South Africa – Sri Lanka, Venue: South Africa
England – Pakistan, Venue: England
What is common amongst all these series? At least one team scored 300 runs nearly every match. In fact, Eng-Pak series saw the scores of 300 every match by both the sides.
World Cup Build up Talks
Throughout the world cup build up, talks were always about high scoring matches and teams breaking 400 runs. In fact, ICC member even suggested some of the English grounds support 500 runs format on their digital display. In fact, even Cricket Bloggers noted the point whether 2019 world cup may become a bowlers' nightmare.
Turn of Events
But nothing of that sort happened throughout the world cup 2019. Across all 11 England & Wales stadiums where the world cup has been played, pitches have been of really good nature. Pitches have supported the perfect balance between the bat and the ball. There always is something for pacemen at the start and tweakers in the middle overs. Plenty of runs are on offer if the batsmen applied themselves. In fact, England's Jonny Bairstow went on to the extent of criticizing the pitches since they aren't true in nature – read belters – Englishman was anticipating.
Balanced Wickets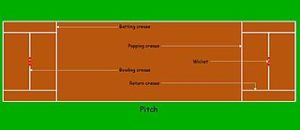 The showpiece event has witnessed the thrillers of 224 runs, as well as 350. If the tournament has a number of centuries scored by the batsmen, bowlers have been able to take the wickets in a lot as well. In fact, the tournament has also seen two hat-tricks, in the matches with the score of at least 200 runs.
Pitches have remained of the same nature all through the 100 overs of the match. Pitch is one of the very reasons why spectators and fans enjoyed some of the thrillers.
Exceptions
Yes, there are few instances where pitches supported batting through the line,  pitches also offered true swing and seam movement. In such a long tournament when curators are supposed to work every day, exceptions should always be pardoned.
Let's Name & Fame
Let us all hail the pitch curators of world cup 2019, for the commendable job. They are the reason fans have enjoyed the cricket world cup 2019.
If you know the name of any curator who has prepared the world cup 2019 game's pitch, please publish the name in the comment section below, to give make him famous. Here are the details of all the 2019 world cup cricket grounds.