The Ashes 2nd test will come thick and fast with a day-night game in Adelaide on the 16th of December. After the mauling England received in the first test from Australia, as a fan you may want to see some changes, don't you? After all, it's about the Ashes – possibly the biggest rivalry in English cricket.
Ashes 2nd Test – The Only Change?
But the only change I can see the coaches and Joe Root may be making for the day/night test is the inclusion of their proven bowling pair of James Anderson and Stuart Broad. The first criteria for the inclusion of both would be their fitness, of course.
Read More: England's Next Best Resources for Test Resurgence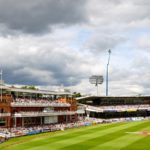 With the prospect of the ball moving around during the evening session, the inclusion of James Anderson for Mark Wood and Stuart Broad for Chris Woakes is obvious. We all witnessed Anderson and Broad causing havoc during the day/night games.
However, if the English cricket team goes for all seam attack in the 2nd test, it would weaken the already weak batting lineup. With the struggling openers & lower-middle order, England cannot afford to lose the batting services of Chris Woakes.
Ashes 2nd Test – Batting Lineup Ponderings
I can see no change right now as far as the batting lineup is concerned unless someone from the first test is injured. Barring Root and Malan, everyone else has struggled in the first test. However, I would not be surprised if Ollie Pope gets dropped for Jonny Bairstow, though not really willing for that change personally.

We have to wait and see what the English think tank has in their minds to see, but more or less I do not expect changes baring the bowling lineup.
What do you think?
What do you think should be the changes in England lineup for the Ashes 2nd Test? Please share your views in the comments section, or write us at our Twitter and Instagram handle. Do share our page with interested fantasy cricket enthusiasts. You can also write directly to me at Krish Patel.