Finally, the much-celebrated women's T20 world cup is over, not without creating a buzz everyone was expecting though. As expected by many, the Australian team won it hands down – for the fifth time in six final they played. The buzz it has created about women's game will take some beating though. In fact, it has also created the momentum that'll help spread the game in new countries. The presence of 86,000-odd at the final speaks a volume about it, isn't it? However, the five T20I titles for Australia in 7 tournaments played across 13 years tell a sorry state about the overall health of the women's game.
England and NewZealand: Second on the Stage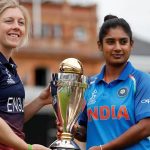 If there's one team close to Australian dominance, it is England. It is England's 2017 world cup final performance – to snatch the game away from India – spoke about their mental toughness. Provided their 2020 T20I semi-final would not have been washed out, they were strong contenders to win that game. Each of their players is trained quite professional in their fitness and game plan.
More about Women's Game: Rise and Rise of Women's Cricket
Limped by the absence of their match winners – on maternity leave – NewZealand struggled in their T20I world cup campaign. Not able to make to the knock-out stages must have hurt them a lot. However, NewZealand isn't as weak as it looked during World T20I. Upon the return of their main players, they'll be a force to reckon – parallel to England if not like Australia.
India and South Africa: Third on the Stage
Even though India made it to the final of the 2020 T20I world cup, they once again crumbled at the big stage. On a big day, they looked intimidated and bruised once Australia took upon the attack. With the horizon of Shafali Varma, they have an oozing talent in the pipeline, which ultimately lacks the mental toughness. Skill & Experience without mental toughness bogs them down at the big stage – like the finals of the 2017 world cup and 2020 T20 world cup.
Things aren't too different for the South African team as well. Oozing with the mix of youthfulness and experience, the team lacks the mental toughness to perform at the highest stage. Unlike India though, they haven't found their way beyond sem-final even once though.
Like many other things, professionalism – in their fitness and game plan execution – is yet another common aspect both the teams lack. What both the teams currently need is management support on fitness and mental coaching. That will automatically build them to execute their game plans right as charted out.
And then Rest All
Unfortunately, the rest of the teams are lacking perfection in almost all aspects. Ideally, West Indies should not have been this down. For the last one and a half years though, their game is declining match after match. In this edition of the T20I world cup, they looked at the sea. Neither close to the best of their skills, game plan execution and fitness that they once were.
Unfortunately, Bangladesh and Pakistan are blowing hot and cold with their performances. Though Bangladesh showed much promise during Asia cup – beating India in the finals, they struggled every game in the T20I world cup. Both these teams need tremendous support from their respective boards for women's games. The girls are working hard, but lack of support is letting them down – every time. Sri Lankan women's game is looking like a one-woman show at the moment. Barring Chamari Atapattu, no one else is showing consistency required at the world level.
Note: Thailand cricket team's state is not analyzed here because they haven't played too many matches at the world stage. The coming year will define more about them.