Royal Challengers Bangalore: the very first team to play the tournament in IPL history. Over the period of 12 editions, RCB has changed their identity – logo, jersey, flags and whatever you can think of – numerous times, and so does the skippers. In spite of changing everything, they are yet to win the IPL title.  Virat Kohli, the current leader of RCB is their longest-serving skipper – eighth straight season in 2020. Under him, the team has achieved the knockout stage only twice – 2015 and 2016. 2016 was probably the best year when they made it to the final. However, it has been a dismal show since then. For the last three seasons, the best position they've garnered is 6th in 2018, rest being the bottom of the table.
More from IPL 2020: IPL 2020 Favorites and more…
Virat Kohli: A Lucky Skipper?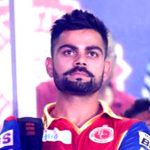 Well, there are two aspects of Virat's reputation – one as a batsman and the other as skipper. As far as his batting goes, he's at the top of the world. Even after failing to register more than one half-century in recent NewZealand series, experts across the globe backed him to come good.
However, the grass is not that green about his leadership. In his reign as a leader, India nor RCB have won the coveted trophy. The winning percentage of 47.16 across the IPL games suggests a bleak in his captaincy. Ideally, any franchise would have changed the skipper after three consecutive failures. However, RCB has shown that faith even in IPL 2020, and possibly one last time.
IPL 2020 Expectations
Virat Kohli would consider himself lucky to be at the helm of RCB in spite of failing to take his side into the qualifiers for three consecutive years. Subsequently, he will be under tremendous pressure to win the coveted tournament in the 2020 edition. And there's hardly a doubt the franchise would expect the same out of his leadership. In fact, not just the franchise but even the Royal loyals would expect a big turnaround this season.
As we discussed earlier, there isn't a doubt about Virat as a batsman – who is topping the IPL all-time run charts, but he needs to transfer that confidence feeling into his leadership. Only then can he turnaround the franchise to achieve the desired result.
After leading his country and Royal Challengers Bangalore, it is expected out of him to win the title in the 2020 IPL edition. Else, the upcoming season could potentially be his last shot at an RCB leadership.