I am sure you have realized what I mean by "CSK Specials". Yes, CSK special means, a player has to be in the category of a father aka the ones who are eligible to join the dad's army and must be older than 30 years old. Meanwhile, it is my humble request to my reader not to get offended as I have chosen this topic only and only to provide the best healing therapy – a laugh. Let's go and have some fun.
Pravin Tambe
Woooohhhhoooo… We have our first and the most eligible candidate of the CSK special category – a 49 yrs old Pravin Tambe. With that age, he shall be considered as a legend in this category. CSK has promised to pick him during the auctions once our choice of categories will be in play.
Harbhajan Singh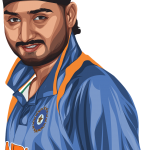 I know, I know that CSK has just released Bhajju pa from the squad. So, they may not be interested in his cricketing skillsets. However, our requirement isn't even of cricketing skillsets. 😉 It is about age and being a dad. Guess what, Bhajju pas fits both at the second position in all the candidates. So, he definitely makes a category of the top five CSK specials with flying colors.
Kedar Jadhav
Now, Kedar Jadhav is a CSK fan's favorite after all. Kedar topped the list of the most tweeted CSK player last IPL season as well. Since the fans love him so much and he fits the CSK special category, he has been put into the category of right to retain by CSK. Three cheers for this 36-yrs old dad.
Nathan Coulter-Nile
Now this one has taken a lot of research I tell you. Though there were some good Indian candidates –  for the sake of making it to playing XI – they don't fit into the category of a dad. Anyway, released by Mumbai Indians after the IPL2021 edition, 33-yrs old NCN fits our bill perfectly. By the way, even his cricketing skillsets meet CSK's requirement of a bowler who can bat. So, Coulter-Nile can be CSK's first choice in this category during the auction. All the best to him. 🙂 🙂
Harry Gurney
Yet another overseas bowling option, 34-yrs old and a father to Arthur, Harry Gurney is the last – but not the least of course – candidate in our list of CSK specials. Three cheers for Harry. Released by Kolkata Knight Riders after IPL2021, Harry is a T20 specialist. So, CSK may not have to think a lot before picking him up.
Apart from the top five mentioned above, the likes of Murali Vijay and Piyush Chawla also fit the bill. However, they've not been selected due to their skillsets not matching with CSK's current requirements.
I hope you liked this article and had a good laugh. Please add your choices of players of this category in the comment section.