This morning, Australia's domestic T20 championship Big Bash League released the rules tweak 😔😔 for the format, limited to the competition. For a starter, here are the changed rules from BBL:
Power Surge: Two floating powerplay overs in 11-20 overs, and first powerplay reduced to 4 overs
X-Factor: This is a re-entry of Super-sub, introduced by ICC in the late 2000s, but the decision limited at the end of 10 overs
Bash Boost: An additional scoring point, to be ahead of your opposition, at the 10 overs mark in the second innings
No one actually saw it coming, until the BBL organizing committee released it this morning. To be honest, these rules are more of a gamble to make the event more attractive than anything else.
Subsequently, even we have taken a Gamble 😝😝 of suggesting a few more rules to the Big Bash League, and all other domestic T20 leagues across the world.
More about T20 Cricket: Against the Run-fest Affair of T20 Cricket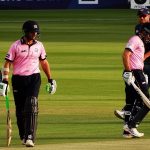 Let us look at some of the gambles that we want BBL cricket to look at: 😁 😁 😁 😁
One-bounce – One-hand
The most common ones in the gully crickets of Asian countries, and beach cricket of Caribbean countries. However, we suggest this rule only be applicable within the 30-yard circle. By the way, please don't ask us what happens if the ball bounces on the 30-yard line. 😁 😁 😁 😁 This rule shall be famous in the BBL, for big grounds of Australia. 
Favorites: Chris Gayle, R Ashwin …
Jack
A common player between both teams, who can bat/bowl for both sides, is commonly known as Jack. 😜 😜 😜 😜 Our tweak here is that the player cannot field. He comes as a replacement for one player and goes back to the dugout once the over completes.
Favorites: Shane Watson, Shahid Afridi …
Last-man batting
Yet another common rule from the gully and beach cricket, the leagues should allow the last player to bat. Thus, taking the total wicket count to 11. 😉 😉 😉 😉 Our tweak here is: the player must complete two runs at a time. 
Favorites: AB DeVilliers, Virat Kohli, MS Dhoni, David Warner …
Trial Ball
The first ball is a trial ball for the batsman to gauge – well, whatever he wants. Yet another one included from the street cricket of India, this rule will be gold for the golden duck candidates.
Favorites: Ajit Agarkar, Glenn McGrath …
2-Declared Runs
This rule is for the straight-bat champions. If the batsman's shot touches the stumps at the other end – without touching the bowler, of course – 2-declared runs are added to the batting team's account, just like four runs in case of a boundary.
What are your rule suggestions for the BBL league administrators? Do add in the comments.