We are in the year 2021. IPL's 14th edition is approaching very quickly. However, it'll be different than the previous one and will be played in India. Continuing Cricket Bbloggers's IPL2021 spotlight campaign, here is a list of the top five all-rounders – Indian and International – who will be franchise favorites during the IPL2021 all-rounders' auction. So, let's go, and review the players who provide the balance to the playing XIs.
Shakib Al Hasan
Back from the ban – by ICC – Shakib Al Hasan has registered himself for the IPL14  auction. Last played for SRH in the 2019 season, the premier all-rounder has 746 runs and 59 wickets in the IPL. However, those numbers don't matter for an international all-rounder like him.
With his skills, caliber, and experience, he'll be the franchisees' favorite in the IPL14 auction. There's hardly a doubt that he may fetch the max. bids in the all-rounder category, especially with the matches happening in India.
Chris Morris
I am still not sure why RCB let him go after IPL 2020. Is it to buy him back at a lower price? Or to retain him with the "right to retain" card? Or for his value in the team? Whatever it is, someone's loss will be another's gain anyways this IPL auction.
With 551 runs and 80 wickets across 70 matches in the IPL, Chris Morris brings an important balance to the T20 XIs. Already played for four IP franchises, the South-African has a lot to offer in the next 3-5 years. Expecting a bidding war for Tipo morris on 18th Feb's IPL2021 All-rounders auction. I wouldn't be surprised if one of his old franchise buys him once again.
Moeen Ali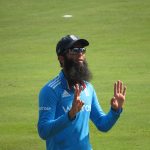 "Underutilized" is a suitable adjective for Moeen Ali. A hard-hitting Moe can play a vital role during the powerplay, not just with the bat, but even with the ball. Unfortunately, RCB has always looked to bowl him in the middle overs instead.
Moeen Ali can be better utilized by providing him a role clarity, unlike RCB. Though only 19 matches' experience in the IPL, he has 309 runs at an SR of 158.5, and 10 wickets at an econ. of 7.13. These numbers are crying out loud for the franchises to run behind him in the IPL14 auction.
K Gowtham
A Strike Rat of 169.1 and an economy of 8.26, are the stats of Krishnappa Gowtham in IPL. More important numbers are an SR of 196.87 and an Econ. of 7.8 during the 2018 season with Rajasthan Royals.
Yet another Indian talent who needs a backing, Krishnappa Gowtham can provide blistering starts with both, bat and ball. His Hard-hitting abilities and two overs at the top can provide a vital balance to the playing XI. 
Shivam Dube
Yet again an "underutilized" ex-RCB, Shivam Dube is a hard-hitting raw talent who can give economical four overs in the middle. A talent asking for direction, Shivam Dube has the potential to be a match-winner on his day. Even at the last IPL edition, he hit some vital blows towards the end of the innings for RCB.
Though his IPL numbers aren't too encouraging, his international experience of 14 matches is vital. It is important to use this experience while guiding him. It is quite possible that RCB may retain him with the retention rights. Let's watch the 18th Feb IPL auction for a bidding war for Shivam Dube.
Beide these five, Fabian Allen and James Neesham are two valuable all-rounders, who can be on franchisees' radar. Who are your top five all-rounders for the IPL2021 auction? Do share in the comments section.