There has been a lot going around Rohit Sharma, for more than a month now. Even though he was excluded from India's tour of Australia – on the fitness ground – he was playing for Mumbai Indians. This confused everyone – cricketers and fans – alike, except for the selectors and the team management.
Even though Rohit Sharma cleared the air a few days ago, the BCCI statement added to the chaos. In this blog, I share my thought about Rohit Sharma's importance in the Indian Test team in Australia, especially in Kohli's absence.
Rohit Sharma: Experience & Determination
The most important value Rohit Sharma brings to the table is the Experience of playing on Australian pitches. Even though he hasn't played a test match in Australia, his experience as a senior player will be vital to the team's confidence – especially in Kohli's absence after the first test match. In Rohit Sharma, India also has the added value of a natural leader. His tactical expertise will be vital to stand-in captain Rahane in Kohli's absence.
Read More from Down Under: Softsoap – Stopping Virat Juggernaut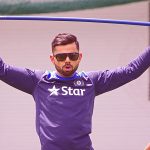 At NCA, he is preparing himself to cope up with the long 2021 season – by gaining fitness. This reflects his dedication and determination towards the team and the game itself. Undoutadbley, this determination shall help him lay the foundation at the top, for Team India to score big down under.
Bouncing Encounters
Australia is one place where you need expertise in playing the bouncers. No wonder that the trio of Cummins, Hazlewood, and Starc will look to exploit that glaring weakness of the Indian top-order. If there's one touring party member who can encounter that strategy, it has to be the hitman himself. If Rohit does well in that area, it will bring a lot of confidence to the dressing room.
Ajinkya Rahane has already shown his skills to play bouncers. The addition of Rohit in that league may possibly sound like a trouble for Australian bowlers.
All in all, team India definitely needs Rohit Sharma to be around in the test matches, especially in Virat Kohli's absence. We wish that he regains his fitness and catches the next flight to Australia.