When was the last time that all Australian players – current and former, along with their media spoke highly about a touring party? And that too a specific player. At least I don't remember something like that in the last 20-25 years. However, that seems to be an Australian strategy to contain Virat Kolhi in the upcoming India-Australia series. A strategy that I term as "Softsoap – talking all sweet about him".
There are a number of players who spoke about: "challenging Virat Kohli proved costly to Australia", during India's tour of Australia in 2017-18. That specifically seems to be a reason why Australia doesn't want to take a similar risk this time around. Having said that, you can not leave Kohli roaming free either, to hit you harder. Hence, there has to be some strategy.
Read More: Course Correction for Team India to reach World Test Championship Final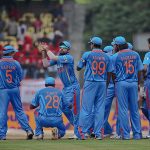 Softsoap – Talking Sweet Everywhere
When Allan Border was asked about the upcoming India-Australia tour, he spoke about how "he would like to be in the Kohli-led team", instead of favoring the Australian team. And that for me was a tipping point. Almost every day, I am reading Adam Zampa's good experiences with Virat Kohli in RCB camp. And not to forget, what Aussie Test Skipper Tim Paine had to say about Kohli.
Even Australian sports channels – Fox Sports and Channel Seven – are focusing their advertisement campaign around Virat Kohli instead of Steven Smith or Tim Paine.
Australian Attitude?
It is understandable that Australia is looking to change its image after what happened at Newlands in 2018. The "winning at all costs" is no more their part of the plan. However, the image isn't going to be at the cost of losing home matches, at the least. Hence, it is safe to say that Softsoap isn't a part of Australia's changed attitude.
Although Softsoap seems to be a strategy to stop Virat Juggernaut, only time will tell its actual impact. If it isn't a strategy though, the Cricket Australia will be appreciated for long.