England has qualified for the world cup semifinals for the first time since 1992. That's a long time and nearly two generations of cricket. After their dismal show in 2015 edition, England cricket prioritized the white call cricket and charted a plan to make it count in 2019 edition. And haven't they executed their plan well enough? By winning 6 out of their 9 games, they were one of those earlier candidates to seal the wc2019 semifinal spot. After performing so well through the tournament, the host nation will be desperate to win their semifinal contest.
English Challenge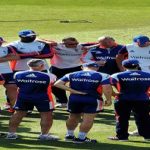 By sacking Alistair Cook as a captain of white-ball team just before the start of 2015 edition, England had indicated a change. A change of shelving the old brand of white-ball cricket, and playing an attacking game. And boy, haven't they succeeded? Passing the score of 300 for about 40 games since 2015 is the proven point. 5 of those instances came in the Pakistan bilateral series just before the world cup. Even in the world cup, they scored 300s as many times, including once in a lost cause against the same opposition.
Looking at the records, and recent past results of an aggressive brand of cricket, English challenge will be top-notch at the wc2019 semifinal. The challenge should be even more special considering the opposition and timing. Just after the world cup, England is scheduled to play "The Ashes" against Australia. Given the fact, England would not like to settle for anything less than a win.
Recent Record
After a hiccup against Sri Lanka and Pakistan, England put their world cup campaign back on the track by winning consecutive matches against India and New Zealand. These wins would have brought the confidence and momentum into their knock out clash.
One more visible record is the performance of their openers. Both the top-order batsmen are firing all guns blazing. Especially Jonny Bairstow's back-to-back centuries are confident-booster. Plus, Jofra Archer and Liam Plunkett are picking up wickets at crucial times to keep the oppositions in check.
Given the form and recent records, the stern English challenge is guaranteed. Hope they go on to win their semi-final contest and march onto the finals.