The thought of  T20 cricket is about the run-fest, and the ball flying around, isn't it? For a T20 batsman, the format is about scoring the runs quickly. It is about skills to play audacious shots, and clear the boundaries at ease. However, there are few world-class batsmen, who can score at a higher strike rate without playing rash shots. Through this blog, we are going to focus on one such batsman – Dawid Malan. He has proven himself into the perfect #3 batsman in this format, without playing those ramps and scoops.
More about T20 Cricket: Against a Run-Fest Affair of T20 Cricket
Dawid Malan by the Stats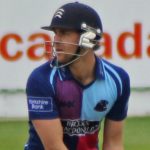 Though Cricket Bloggers is an opinion-based blog, we've decided to use the stats to highlight Malan's impact on the T20I game for England. In just 15 T20Is he played for England, he has already scored 661 runs. More importantly, all these runs have come at an average of 50.84 and a strike rate of ~ 150. That's a phenomenal record, which puts him on top of the T20I batting charts at any position, not just #3. Out of those 15 innings, he has crossed the 50-mark for 8 times, one of which is a century. That's just a bloody good record at the highest level.
Art of Building an Inning
In a T20 side, the role of #3 batsman is to anchor an inning, and score at least at run-a-ball strike rate, if not faster. However, Dawid Malan has exceeded those expectations hands-down. In the last year, England's average first wicket partnership is 21 runs. That has brought Malan to the crease within 2nd or 3rd Over, 9/10 times, which leaves him with roughly 17-18 overs to play.
Though known as a slow starter, he ensures to rotate the strike for few balls, if not hitting a boundary. He also has the ability to absorb the pressure, if the opposition bowling attack is on fire. But once settled, he relinquishes himself on the opposition. He has an ability to high-risk shots – especially reverse sweep to spinners – with ease, once he is in the groove.
His ability to absorb the presence ensures the shot makers like Banton, Jonny & Captain Morgan can to go bang-bang every delivery. If the wicket falls in the process, Dawid is there to take care.
Further Read: Top Five Contemporary Issues in World Cricket
Looking at the stats, and his skills to play impactful innings for England, Dawid Malan is a batsman that every T20 teams – international and franchisees alike – would love to have at #3 in their batting order.
Stats Credit: Cricinfo Stats Guru