It's that time of the year – three months before the start of IPL – when you anticipate some happenings around the IPL. The first amongst all is releases & retentions, which just concluded a week back. Hence, the next is the auction, which is around the corner. Possibly, within the next 15-20 days. Ideally, 2021 should have been a year of mega IPL2021 auction, but for the postponement of the last IPL edition due to Covid. Anyway, even a mini-auction is as exciting as mega – for us the bloggers, since it gives us an opportunity to write a lot of stuff around the team building. So, let me write one more time. This time, it is about the top five overseas bowlers that franchises would be focusing on during the IPL2021 auction.
Just like the batsmen, there's a lot of focus on the Australian contingent. Especially because the BBL and Australian summer conclude just before the auction time.
Jhye Richardson
A rising Aussie pace sensation. Isn't this sufficient to attract franchisees' attention? No? What if I tell you that he's the top wicket-taker in the ongoing Big Bash League by a distance (2nd best is 22, compared to his 27), with an economy of 7.09? I am sure you will be convinced about this speedster.
Ok Jhye get ready to witness the bidding war – a life turning/ changing auction mate

Expect no less than 7Cr ( thats my base price for him)

KXIP and RR you can take over from here mates ( RCB might join d war but not sure how far) #JhyeRichardson #BBL10 #IPL2021

— Karthik Rao (@Cric_Karthikk) January 26, 2021
And I am obliging with what Karthik has to say. A 24-years old Jhye Richardson has a lot to offer from the long term perspective. Additionally, he can send few cherries out of the ground as well. So, his value at the IPL auction shall not be a thing of surprise.
Mujeeb-ur-Rahman
The release of Mujeeb has come as a surprise for many. A consistent performer at the international level, Mujeeb has been the backbone of many bowling attacks across the T20 leagues. Primarily an off-spinner, Mujeeb possesses many variations in his armory. Alongside a beautiful flight and guile, stock balls have proven too much for many world-class batsmen. And his value as a potential power-play bowler raises his stocks even more.
Towards the end of last year, he claimed 5-for for Brisbane Heat, the best bowling figure for the franchise in its history. An Asian spinner on an Indian pitch shall be a mouth-watering prospect for every franchise. To me, he will be amongst the top-selling cricketer in the IPL2021 auction.
Tanveer Sangha
Did the name of Tanveer Sangha surprise you? Hmmm… possibly you may want to look at his BBL10 season record, and you'll know why he is on this list. The 19-yrs old leggie is third in the wicket-takers' list in his debut season. Further, his control over the ball is already beyond his age. In fact, there are quite a few across Australia demanding him to be in the Australian T20I squad. And anyways, T20 leagues across the world loves leg spinners, don't they? Then how can an IPL hate a rising leg spinner from down under? 
And I am just a blogger who has analyzed this much, so think about the IPL scouts. They must have even decided his role in their respective franchises for the next few years. I will not be surprised to witness a bidding war for Tanveer Sangha.
Mark Wood
A season with Chennai Super Kings has given him a taste of IPL. A sheer pace along with accuracy is his main weapon. And as he showed on the recent Sri Lanka tour, he has the ability to succeed on the Asian pitches as well. An addition of Anrich Nortje in Delhi Capitals rank showed a value of sheer pace in the playing XI.
The teams looking out for a sheer pace and accuracy – most likely KXIP – can look to utilize the international experience of Mark Wood.
Kyle Jamieson
The lanky NewZealander has high stakes this time around. His revolutionary performances for the national side are eye-popping. 36 wickets in just 6 test matches are enough for every franchise to stand up and take notice. In fact, a 6'8″ pacer can even tonk few long hits if required, just like how Jofra Archer did last season. To his credit, he already has 50 wickets in T20s, with the best figures of 6/7 (that's insane, isnt' it?).
He has taken every chance given to him, with both the hands. Captain Kane has many a times look to him to fetch his team a breakthrough. An understudy of Kane may endup in the same SRH franchise in the IPL2021 auction.
Ashton Agar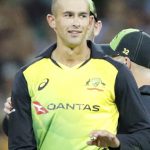 All these years, Ahston Agar hasn't been valued too much in the IPL, and that's for his consistency at the highest level. However, a past year or so is revealing for the southpaw. Alongside Zampa, he has provided a much needed control in middle overs to the national side in the period. His economy of just above 7 in the last T20Is is sufficient for franchises to realize his values in the middle order.
Additionally, he has a very good technique with the bat to build few partnerships lower down the order. Teams like CSK and KXIP may look up to payers like him to provide that control in the middle order, and fire at the end.
Apart from these five top contenders, Sandeep Lamichhane, Riley Meredith, OShane Thomas and Hardus Viljoen may attract good bids.
What is your list of top five overseas bowlers for the IPL2021 auction? Do share in the comment section.